Holidays in Val Badia – the centre of Ladin culture in South Tyrol
San Martino in Badia lies in Val Badia in South Tyrol, surrounded by the majestic peaks of the Dolomites. Two nature parks are located in the immediate vicinity of the village. The nature parks Puez Odle and Fanes-Sennes-Braies are crisscrossed by a network of hiking and mountain bike trails. Your holiday in Val Badia takes you right into the centre of the Ladin culture in South Tyrol. In this unspoiled valley, the traditions and language of the ancient Romansh ethnic group have been passed over centuries from one generation to the next. At the Regional Ladin Museum in San Martino in Badia you may discover the customs and traditions of the Ladin folk culture.
Alpine hiking adventures during your holidays in Val Badia
On Plan de Corones you will find one of the most scenic hiking areas in the Dolomites –right next to your holiday accommodation on the farm Al Cir. More than 1,000 kilometres of marked hiking paths and mountain bike trails criss-cross the alpine region. Every year, the Giro d'Italia, one of the most important cycling races in the world, passes through the region Plan de Corones. During your holiday in Val Badia you may ride along one stage of this tour. Fantastic nature experiences await you on hikes below the peaks of the Odle Group and during a walk around the Sas de Putia (2,874 meter). In the summer months, alpine roses, bluebells and gentians bloom on the lush green meadows and colourful butterflies dance from flower to flower.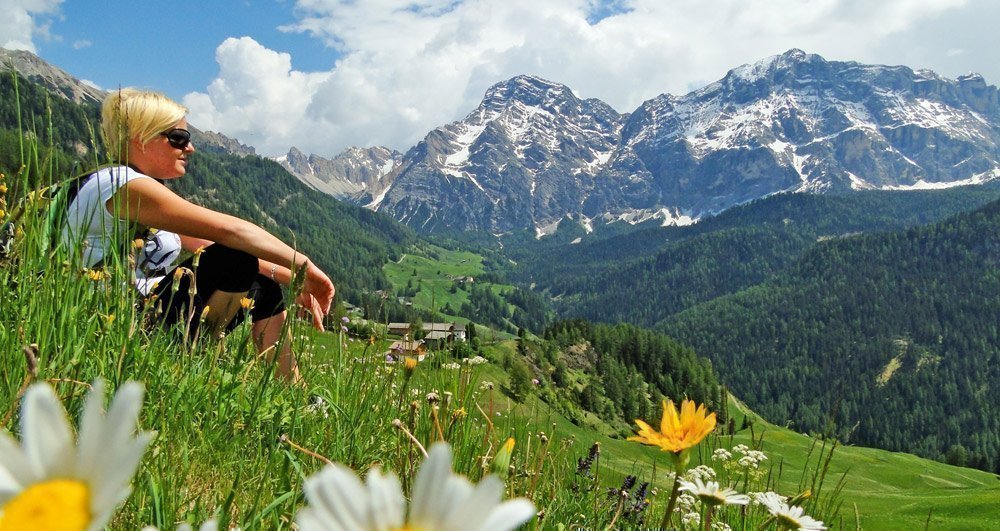 Discover the Badia Valley in the summer
Alta Badia – with its green meadows and dense forests – counts among the most untouched valleys in the Dolomites. Around San Martino in Badia you may find stunning hiking destinations in the alpine mountain world. An easy walk – also suitable for children – leads to the Ladin "Viles". The ancient buildings made of quaint larch wood make up a small settlement with a character that has remained unchanged for centuries. A hike to the hamlet Costa is accompanied by fantastic views of the Sasso Croce Group and the Sas de Putia. Along the way at many places the vista shows the Castle of Badia.